East Bay Barefoot Hikers
Enjoy walking barefoot ?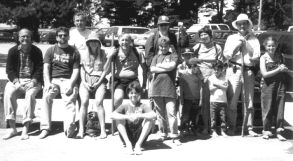 So do we !!
The East Bay Barefoot Hikers take to the trails every 2 to 3 weeks, year-round.
It's fun, it's healthy and it's FREE.
---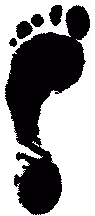 We enjoy feeling the variety of ground textures and temperatures; the pleasure of flexing our feet unencumbered by shoes and the overall feeling of freedom and well-being that comes from walking barefoot in nature. You remember how much you loved going barefoot as a kid, right ? Recapture that feeling ! It's never too late. Come join us !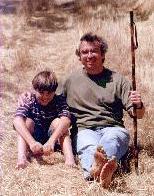 Even the softest feet can be quickly conditioned (or reconditioned) by starting with short walks on soft trails. We organize short to medium length hikes in regional parks such as Redwood, Briones, Tilden, Las Trampas and Mount Diablo State Park. The pace is leisurely and there is plenty of opportunity to socialize. Our club has been in existence since June, 1995 and has been featured in several Bay Area newspapers, Newsweek Magazine, and on national TV (Extra Entertainment, Good Morning America).
We are affiliated with the original Barefoot Hikers of Thomaston, Connecticut started in 1990 by Richard Frazine (author of The Barefoot Hiker). There are now eight clubs like this in U.S. alone. We usually have about 8 to 12 people along on each hike, including a number of children. Although we insist that everyone begins each hike in bare feet (you have to be serious about this), no-one has to stay barefoot the whole way (most of the time, everyone does). Email Mike if you'd like some tips on preconditioning your feet. Newcomers are shown several safety techniques. If you are interested, we'll put you on the e-mail list or the phone list and notify you of upcoming hikes. There are no dues or membership fees of any kind. Please remember to bring drinking water (and a snack) on each hike. Questions? Email Mike.
---
General Stuff
Trip Reports 37 documented hikes
EBBH Photo Gallery 11 images
Hike Schedule
Barefoot Hiking Central
Joining Us
East Bay Barefoot Hikers in the media
• Contra Costa Times, December 3, 1995, p. 1A
• Newsweek, January 15, 1996, p. 6
• Christian Science Monitor, June 9, 1997
• San Francisco Chronicle, December 11, 1997 • Common Ground magazine, March, 2006
East Bay Barefoot Hikers is the recipient of
Barefoot Cellars' Outstanding Barefoot Achievement Award!
You can help our club by registering with GetOutdoors.Com
(After registering, send e-mail to goshare with
your full name, user name and organization name)
Please send any questions/comments to Mike Berrow.
East Bay Barefoot Hikers
---